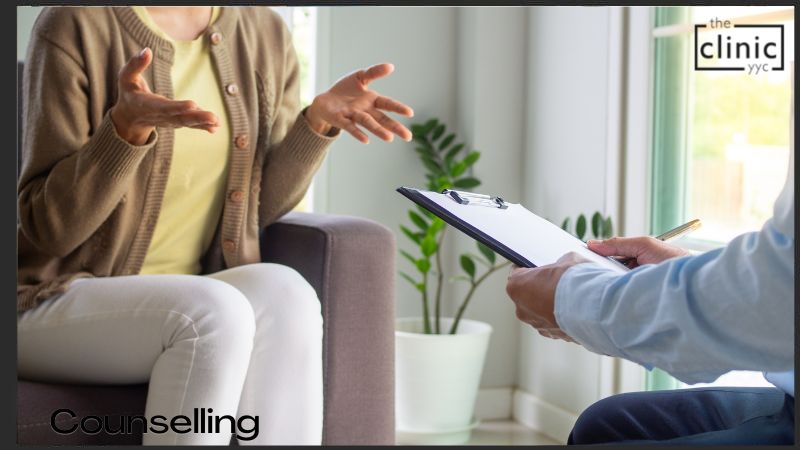 Counselling is a process of assisting and guiding clients to resolve personal, social or psychological problems and difficulties. By using different perspectives and tools the counsellor and client can work through stressful or emotional feelings. The goal of therapy is generally to facilitate positive change. This can be done with the use of Cognitive Behavioral Therapy, Solution Focused Brief Therapy and mindfulness techniques. Therapy is good for those experiencing anxiety, depression, work or relationship issues, substance abuse, trauma and other disorders.
At The Clinic YYC, our counsellor can support and guide clients through their psychological distress to create positive results. Our counsellor works with each client to cater to their specific needs. Active participation is required from both the client and counsellor to achieve the maximum amount of success in therapy.
What Conditions Can Be Treated By A Counsellor?
Counselling is used for the treatment of a wide variety of mental health concerns as well as day-to-day problems. Counselling uses different modalities to formulate workable solutions for any presenting concern. Some specific conditions that can be treated with counselling include:
Depression
Anxiety disorders
Drug and alcohol use
Marital problems
Eating disorders
PTSD
Phobias
Sleep disorders
Obsessive-compulsive disorders (OCD)
Bipolar disorders
Schizophrenia
Sexual disorders
Why Choose Counselling?
Counselling offers a wide variety of benefits to your overall well-being. Counselling allows you to work through day-to-day stressors or more serious mental health conditions. Using advanced scientific approaches such as Cognitive Behavioural Therapy you will see positive changes in your life. Counselling incorporates the mind, body and environment giving you a fully balanced treatment approach. Counselling is for everyone, as each session is curated to the client's needs and expectations. The Clinic YYC offers confidentiality with its counselling services, ensuring the best quality of treatment for you, your partner or your family.
Are You Ready To Take Control of Your Health?
Become empowered to pursue whole health with our team's commitment to patient education and the integration of effective traditional and advanced treatment modalities that are cornerstones of The Clinic YYC mission.
To benefit from our in-depth knowledge, wellness insight, and expert treatment connect with us now. Explore many pathways to well-being and take control of your own health at The Clinic YYC.
A Team Committed To Whole Health
Each member of the team at The Clinic YYC is highly skilled in their own areas of specialization. Our team works collaboratively to build a personalized and comprehensive wellness strategy for each client. Our team approach allows us to integrate several treatment modalities to relieve pain and restore optimal function so your well-being is fostered by the health of your body, mind, and spirit. Meet the passionate and knowledgeable team of The Clinic YYC.
A Holistic Approach To Health
The Clinic YYC brings solutions for proactive and preventative care, pain relief, and peak function, and whole health by integrating effective treatment modalities delivered by a team of skilled and knowledgeable specialists. We believe that health care is not a one-size-fits-all strategy and that optimal wellness can be achieved through a personalized program of combined therapies. Here are some of the traditional and advanced treatments available at The Clinic YYC.
Many people can experience fear of a spinal adjustment due to what they have seen on TV or heard about back "cracking". But spinal adjustment is a completely safe and effective treatment when performed by a skilled and knowledgeable chiropractor. And the team of chiropractors at The Clinic YYC leverages a number of different, complementary treatment modalities to relieve pain and restore function. We are committed to working with you to design a customized treatment plan that you are comfortable with and that will help you achieve your goals for treatment.
Our chiropractors start each treatment looking at the functional movement of the area where you are experiencing pain, discomfort, tightness, or loss of movement. Often treatment starts with muscle work to loosen the area. Your chiropractor can recommend complementary therapies that can maximize pain relief and restore function.
An adjustment is a skilled and precise movement usually applied by hand to a joint of the body to help relieve pain and discomfort, and restore range of motion. Adjustment loosens the joint to restore proper movement and optimize function.
A Better Journey To Health

The Clinic YYC is an inclusive health practice integrating the most effective traditional and advanced treatment modalities available. We are focused on patient care, and proactive & preventative health, and we offer a compassionate and collaborative team approach to give our clients the time and attention they need to achieve optimal health and well-being. The Clinic YYC is your home for whole health.
Calgary's Choice For Optimal Wellness
Every person's journey to complete wellness is unique. Achieving optimal health may be easier than you thought, or it might be harder than you expected. But when you partner with the team at The Clinic YYC, you are guaranteed access to some of Calgary's best wellness professionals and to effective and transformative traditional and advanced treatment modalities to support your goals for physical well-being.
Connect with The Clinic YYC by filling out our contact form, calling us at 1-587-353-5933, or visiting us! We are located in the ECT Tower on the main floor by the north entrance.