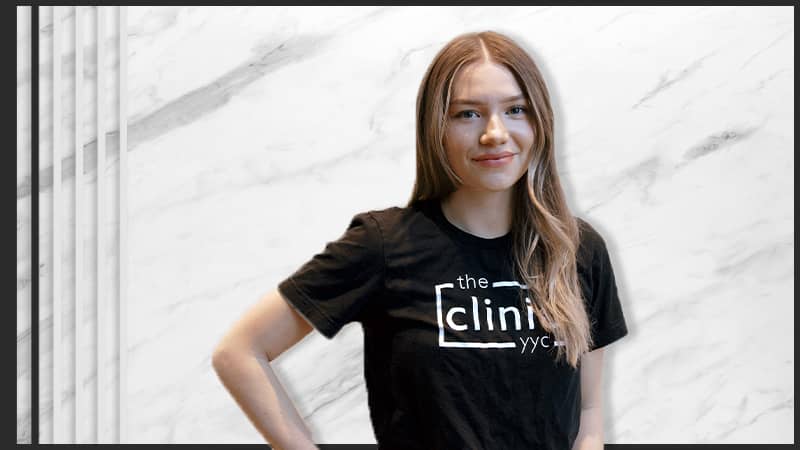 Dr. Bria Kloppenborg
Doctor of Chiropractic
Dr. Bria Kloppenborg is a graduate from the University of Western States in Portland, OR. Prior to completing her Doctor of Chiropractic, she attended the University of Calgary in the Faculty of Kinesiology. She is local to Calgary, having grown up west of the city in Cochrane, and is very excited to be back helping her community with their health and fitness goals.
Dr. Bria's passion for Chiropractic and conservative care stem from years of competitive athletics and the numerous musculoskeletal injuries sustained throughout. With an emphasis on education and empowerment, she aims to provide her patients with tools to optimize their own health to get them back doing what they love.
During her academic career, she focused on exposing herself to numerous evidence-based treatment styles and techniques including Dynamic Neuromuscular Stabilization, functional neurology, McKenzie Method, various soft tissue styles, and trigger point therapy. Therefore, her patients can expect a uniquely tailored treatment plan based off a thorough assessment in order to accurately diagnose. Whatever your health and performance goals may be, Dr. Bria looks forward to helping you work towards achieving them through a collaborative and evidence-based approach.
Outside of the clinic, you can find Dr. Bria enjoying the outdoors either hiking, skiing, or walking with her golden retriever Birch.
Are You Ready To Take Control of Your Health?
Become empowered to pursue whole health with our team's commitment to patient education and the integration of effective traditional and advanced treatment modalities that are cornerstones of The Clinic YYC mission.
To benefit from our in-depth knowledge, wellness insight, and expert treatment connect with us now. Explore many pathways to well-being and take control of your own health at The Clinic YYC.
A Team Committed To Whole Health
Each member of the team at The Clinic YYC is highly skilled in their own areas of specialization. Our team works collaboratively to build a personalized and comprehensive wellness strategy for each client. Our team approach allows us to integrate several treatment modalities to relieve pain and restore optimal function so your well-being is fostered by the health of your body, mind, and spirit. Meet the passionate and knowledgeable team of The Clinic YYC.
A Holistic Approach To Health
The Clinic YYC brings solutions for proactive and preventative care, pain relief, and peak function, and whole health by integrating effective treatment modalities delivered by a team of skilled and knowledgeable specialists. We believe that health care is not a one-size-fits-all strategy and that optimal wellness can be achieved through a personalized program of combined therapies. Here are some of the traditional and advanced treatments available at The Clinic YYC.
A Better Journey To Health

The Clinic YYC is an inclusive health practice integrating the most effective traditional and advanced treatment modalities available. We are focused on patient care, and proactive & preventative health, and we offer a compassionate and collaborative team approach to give our clients the time and attention they need to achieve optimal health and well-being. The Clinic YYC is your home for whole health.
Calgary's Choice For Optimal Wellness
Every person's journey to complete wellness is unique. Achieving optimal health may be easier than you thought, or it might be harder than you expected. But when you partner with the team at The Clinic YYC, you are guaranteed access to some of Calgary's best wellness professionals and to effective and transformative traditional and advanced treatment modalities to support your goals for physical well-being.
Connect with The Clinic YYC by filling out our contact form, calling us at 1-587-353-5933, or visiting us! We are located in the ECT Tower on the main floor by the north entrance.