Shockwave Therapy and How Does It Treat Musculoskeletal Conditions?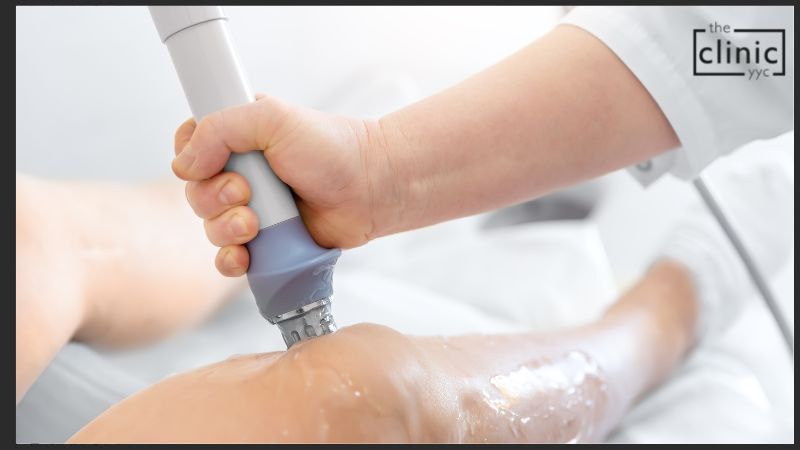 Are you struggling with persistent pain due to certain musculoskeletal conditions such as plantar fasciitis? Have you ever sought the services of our chiropractors in downtown Calgary? If not, then there is no better time to reach out than now.
Conventional treatments can only do so much when dealing with such conditions since the aim is to treat the symptoms. However, our team at The Clinic YYC has a host of options such as shockwave therapy to treat chronic musculoskeletal conditions.
This revolutionary treatment is known to deal with multiple conditions that bring out persistent pain and limited mobility. Curious to know more?
It's All About Shockwaves
Just as the name suggests, shockwave therapy uses shock waves to treat the injured soft tissue. It is a non-invasive treatment that uses an applicator to deliver direct radial shock waves on the affected area to relieve pain. It is a widely used mode of treatment that is used in sports medicine, chiropractic, physiotherapy, veterinary medicine, and orthopedics.
The beauty of using this treatment is that you are assured of increased mobility and fast pain relief. Shockwave therapy uses less energy than other treatments used in medical applications making it an ideal treatment for issues with connective tissues such as tendons and ligaments.
If you have tendon issues that never seem to get better with traditional medications, shockwave therapy can do wonders.
How Does Shockwave Therapy Work?
First things first. You will have to undergo an examination that determines whether shockwave therapy is the way to go. When our practitioner determines that you are fit to receive this treatment, and then a gel is applied to the affected area before the treatment begins.
The device has a compressor that controls a fast-moving projectile. The work of the projectile is to transmit energy to generate the radial shockwaves to the troubled area. The shockwaves spread through the area, and tissue easily absorb the waves.
In other words, the device releases an acoustic wave that emits energy to the injured parts. The energy promotes the regeneration of the tendons, bones, and soft tissues.
These acoustic waves released by the applicator interact with tissue causing therapeutic effects such as:
Increased growth factors
Stimulation of collagen production
Improved blood flow
Release of trigger points that are responsible for pain in the neck, back, limbs, and shoulder
Decrease pain
Dissolution of calcified fibroblasts
Reversal of chronic inflammation
In a nutshell, you will have improved cell growth, tissue repair, and your mobility will be improved.
For you to reap the greatest benefit of shockwave therapy, our chiropractor will use it with manual therapy, training, or other physiotherapy techniques. The treatment typically takes around 10 minutes.
What Can Shockwave Therapy Treat?
As you already know, shockwave therapy can be used to treat a range of musculoskeletal issues. These issues can be categorized as follows:
Bones: Common conditions in this category can be shin splints and trochanteric pain syndrome
Tendons: The prevalent tendon issues are painful patellar tendons, Achilles tendons, supraspinatus, and tennis elbow.
Muscles: Can be used to treat trigger points, hypertonic muscles, and muscle pain
Connective tissue: It is an excellent treatment for trigger finger, plantar fasciopathy, and scar tissue.
Benefits of Shockwave Therapy
Some issues take a long time to respond to treatment, and at times they seem not to work. However, shockwave therapy has helped tip the scales in your favour, and you can reap a host of benefits for chronic issues that never seem to go away. Here are some of the benefits:
No anesthesia is needed before carrying out the procedure
Non-invasive treatment for chronic pain in your knee, back, shoulder, heel, or elbow
Limited side effects
A realistic alternative to medication or surgery
Treats the cause and not the symptoms
Fast pain relief usually within a few days
A fast treatment session typically 10 minutes
Scientifically proven form of therapy
Over 80 percent success rate
No need for painkillers
You can improve your life quality if you decide to come for shockwave therapy to treat the various musculoskeletal issues. If you would like to try shockwave therapy in Calgary, contact us at The Clinic YYC. We would love to help.
A Holistic Approach To Health
The Clinic YYC brings solutions for proactive and preventative care, pain relief, and peak function, and whole health by integrating effective treatment modalities delivered by a team of skilled and knowledgeable specialists. We believe that health care is not a one-size-fits-all strategy and that optimal wellness can be achieved through a personalized program of combined therapies. Here are some of the traditional and advanced treatments available at The Clinic YYC.
A Better Journey To Health

The Clinic YYC is an inclusive health practice integrating the most effective traditional and advanced treatment modalities available. We are focused on patient care, and proactive & preventative health, and we offer a compassionate and collaborative team approach to give our clients the time and attention they need to achieve optimal health and well-being. The Clinic YYC is your home for whole health.
Calgary's Choice For Optimal Wellness
Every person's journey to complete wellness is unique. Achieving optimal health may be easier than you thought, or it might be harder than you expected. But when you partner with the team at The Clinic YYC, you are guaranteed access to some of Calgary's best wellness professionals and to effective and transformative traditional and advanced treatment modalities to support your goals for physical well-being.
Connect with The Clinic YYC by filling out our contact form, calling us at 1-587-353-5933, or visiting us! We are located in the ECT Tower on the main floor by the north entrance.