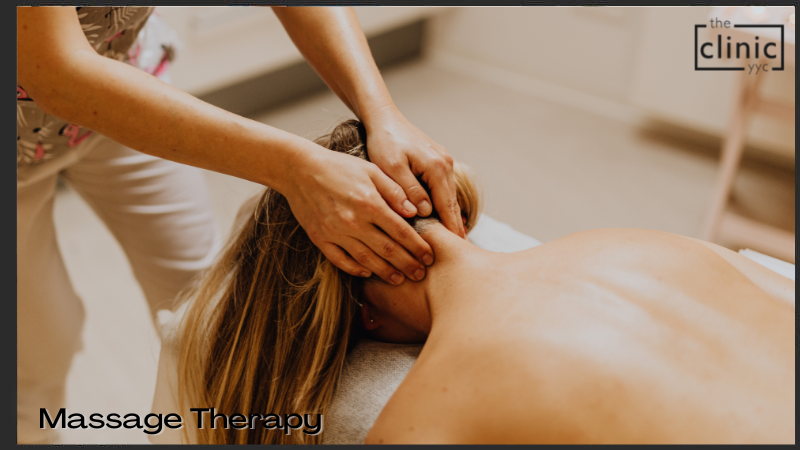 Massage Therapy is a manual manipulation of the soft tissues of the body to alleviate pain and discomfort, relieve tension, reduce stress, and improve overall health. The soft tissues of your body include your muscles, connective tissues, tendons, ligaments, fascia, and joints. Massage Therapy is provided by a credentialed massage therapist who is registered with the Remedial Massage Therapist Association (Canada) in accordance with the Regulated Health Professionals Act and the Massage Therapy Act.
The massage therapists at The Clinic YYC have completed certified training with at least 2,200 hours of practice and meet the requirements for extended health benefit providers. Our massage therapists specialize in deep tissue and therapeutic massage, trigger point therapy, relaxation massage, and prenatal massage.
What Conditions Can Be Treated With Massage Therapy?
Massage Therapy is an effective treatment to relieve the pain and stress of your body's soft tissues that are associated with repetitive use, everyday and occupational strain, and the effects of underlying health concerns. Some of the most common conditions that can be treated with Massage Therapy are:
Carpal Tunnel Syndrome
Headaches Including Migraine
Lymphatic Drainage
Muscle Spasms Or Strains
Neck Pain
Overuse And Occupational Injuries
Postural Dysfunction And Related Pain
Pre/Post Natal Related Pain
Respiratory Conditions
Scar Tissue Mobilization
Sciatica
Shoulder Pain
Sports And Running Injuries
Stress, Anxiety, And Depression
Upper, Middle, Or Lower Back Pain
Whiplash And Motor Vehicle Accident Injuries
Why Choose Massage Therapy?
Massage Therapy is an excellent complementary treatment modality to chiropractic care for anyone experiencing chronic or acute soft tissue pain and tension. It can also be combined with other therapies such as Active Release Techniques (ART®), Graston Technique®, Shockwave Therapy, Prolotherapy, and other services to achieve maximum pain relief and optimal healing. The benefits of Massage Therapy include:
Improved Blood Circulation
Reduced Anxiety And Depression
Better Outcomes For Healing After Injury
Joint Mobility Improvement
Pain Reduction Or Elimination
Stress Relief
You do not require a referral from your primary care physician to access the medical and therapeutic relief of Massage Therapy and most extended health benefits programs provide 80%-100% coverage for Massage Therapy treatments.
Are You Ready To Take Control of Your Health?
Become empowered to pursue whole health with our team's commitment to patient education and the integration of effective traditional and advanced treatment modalities that are cornerstones of The Clinic YYC mission.
To benefit from our in-depth knowledge, wellness insight, and expert treatment connect with us now. Explore many pathways to well-being and take control of your own health at The Clinic YYC.
A Team Committed To Whole Health
Each member of the team at The Clinic YYC is highly skilled in their own areas of specialization. Our team works collaboratively to build a personalized and comprehensive wellness strategy for each client. Our team approach allows us to integrate several treatment modalities to relieve pain and restore optimal function so your well-being is fostered by the health of your body, mind, and spirit. Meet the passionate and knowledgeable team of The Clinic YYC.
A Holistic Approach To Health
The Clinic YYC brings solutions for proactive and preventative care, pain relief, and peak function, and whole health by integrating effective treatment modalities delivered by a team of skilled and knowledgeable specialists. We believe that health care is not a one-size-fits-all strategy and that optimal wellness can be achieved through a personalized program of combined therapies. Here are some of the traditional and advanced treatments available at The Clinic YYC.
Yes, a Registered Massage Therapist (RMT) can find the root cause for most muscle strains, injuries, and pain and can work the issue as well as the surrounding areas to relieve the pain and discomfort and improve movement and mobility.
All massages can be beneficial, but spa massages are primarily focused on relaxation. Massage therapy is used to treat injuries, aid in recovery, and provide relief for chronic or acute pain. At The Clinic YYC Massage Therapy is used in conjunction with some of our other services to provide patients with a full scope of treatment and optimal well-being.
At The Clinic YYC massage therapy appointments can be booked to fit your schedule, your treatment plan, or personal preference. We have options of 30, 45, 60, 75 and 90-minute appointments.
A Better Journey To Health

The Clinic YYC is an inclusive health practice integrating the most effective traditional and advanced treatment modalities available. We are focused on patient care, and proactive & preventative health, and we offer a compassionate and collaborative team approach to give our clients the time and attention they need to achieve optimal health and well-being. The Clinic YYC is your home for whole health.
Calgary's Choice For Optimal Wellness
Every person's journey to complete wellness is unique. Achieving optimal health may be easier than you thought, or it might be harder than you expected. But when you partner with the team at The Clinic YYC, you are guaranteed access to some of Calgary's best wellness professionals and to effective and transformative traditional and advanced treatment modalities to support your goals for physical well-being.
Connect with The Clinic YYC by filling out our contact form, calling us at 1-587-353-5933, faxing us at 1-587-353-5471 or visiting us! We are located in the ECT Tower on the main floor by the north entrance.