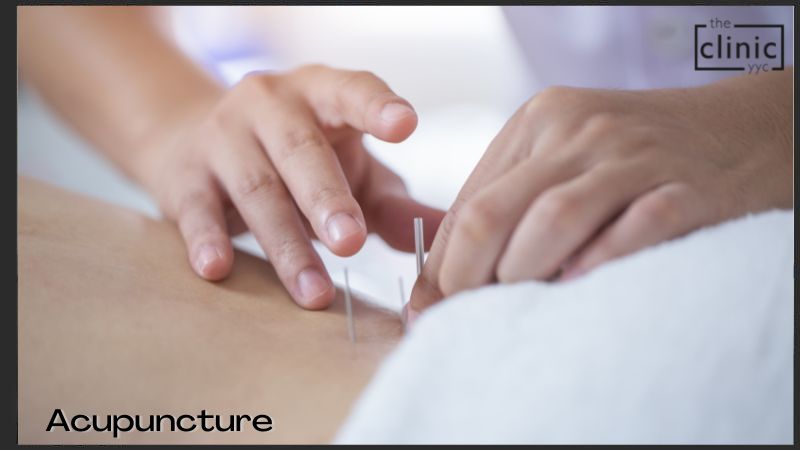 Acupuncture is an alternative treatment modality and one of the oldest disciplines of traditional Chinese medicine. First introduced in North America sometime in the early 1800s and gaining widespread notice in the second half of the 20th century, acupuncture continues to grow in popularity. Today many conventionally-trained medical practitioners recognize its value as a complementary therapy to western medicine. An Acupuncture treatment focuses on stimulating strategic points in the body, most often with very fine needles, to relieve pain and help treat underlying conditions.
At The Clinic YYC we embrace the benefits of combining ancient Eastern medicine with advanced chiropractic care to provide patients with an effective, long-lasting, and holistic approach to wellness. Our trusted Acupuncture partners are a valued asset to our team and our collaborative health care model.
What Conditions Can Be Treated With Acupuncture?
Clinical studies on the benefits of Acupuncture have demonstrated its efficacy in treating a variety symptoms, diseases, and conditions including:
Allergic Rhinitis (including hay fever)
Biliary Colic
Depression (including depressive neurosis and depression following stroke)
Acute Bacillary Dysentery
Primary Dysmenorrhoea
Acute Epigastralgia (in peptic ulcer, acute and chronic gastritis, and gastrospasm)
Facial Pain (including craniomandibular disorders)
Headache (including migraine)
Hypertension and Hypotension
Induction Of Labour
Knee Pain
Leukopenia
Low Back Pain
Correction of Fetal Malposition
Morning Sickness
Nausea And Vomiting
Neck Pain
Central Pain (including temporomandibular dysfunction-TMJD)
Periarthritis Of Shoulder
Postoperative Pain
Renal Colic
Rheumatoid Arthritis
Sciatica
Sprain
Stroke
Tennis Elbow
Why Choose Acupuncture?
The traditional Chinese philosophy is that your energy, or life force, flows along pathways within your body. Needles inserted at precise points along your energy channels can balance and enhance your energy flow. Western medical practitioners who integrate acupuncture into their more conventional treatments see acupuncture points as strategic positions to stimulate connective tissues, nerves, and muscles. Contemporary acupuncture practice may leverage pressure, heat, or electrical current to enhance the benefits of acupuncture. Acupuncture is safe and effective, with very minimal side effects. This complementary therapy at The Clinic YYC is an excellent option for patients who want to avoid medication and invasive interventions.
Are You Ready To Take Control of Your Health?
Become empowered to pursue whole health with our team's commitment to patient education and the integration of effective traditional and advanced treatment modalities that are cornerstones of The Clinic YYC mission.
To benefit from our in-depth knowledge, wellness insight, and expert treatment connect with us now. Explore many pathways to well-being and take control of your own health at The Clinic YYC.
A Team Committed To Whole Health
Each member of the team at The Clinic YYC is highly skilled in their own areas of specialization. Our team works collaboratively to build a personalized and comprehensive wellness strategy for each client. Our team approach allows us to integrate several treatment modalities to relieve pain and restore optimal function so your well-being is fostered by the health of your body, mind, and spirit. Meet the passionate and knowledgeable team of The Clinic YYC.
A Holistic Approach To Health
The Clinic YYC brings solutions for proactive and preventative care, pain relief, and peak function, and whole health by integrating effective treatment modalities delivered by a team of skilled and knowledgeable specialists. We believe that health care is not a one-size-fits-all strategy and that optimal wellness can be achieved through a personalized program of combined therapies. Here are some of the traditional and advanced treatments available at The Clinic YYC.
Acupuncture needles are single-use and sterile needles. Your provider uses an alcohol solution to clean the skin at the insertion point before the needle is used and each needle is placed into an approved container for safe disposal after use.
The short answer is no. Acupuncture needles are as thin as human hair. Depending on the insertion point (if there is inflammation or aggravation present) you may feel a very slight pinch or poke as the needle goes in. Once the needle is in you can't feel it.
The body has over 2200 acupoints. The comprehensive assessment you will receive on your first visit to The Clinic YYC gives our acupuncturist the insight needed to optimize stimulation through this large number of acupoints to relieve your pain and restore balance, thereby improving physical health and mental well-being.
A Better Journey To Health

The Clinic YYC is an inclusive health practice integrating the most effective traditional and advanced treatment modalities available. We are focused on patient care, and proactive & preventative health, and we offer a compassionate and collaborative team approach to give our clients the time and attention they need to achieve optimal health and well-being. The Clinic YYC is your home for whole health.
Calgary's Choice For Optimal Wellness
Every person's journey to complete wellness is unique. Achieving optimal health may be easier than you thought, or it might be harder than you expected. But when you partner with the team at The Clinic YYC, you are guaranteed access to some of Calgary's best wellness professionals and to effective and transformative traditional and advanced treatment modalities to support your goals for physical well-being.
Connect with The Clinic YYC by filling out our contact form, calling us at 1-587-353-5933, faxing us at 1-587-353-5471 or visiting us! We are located in the ECT Tower on the main floor by the north entrance.