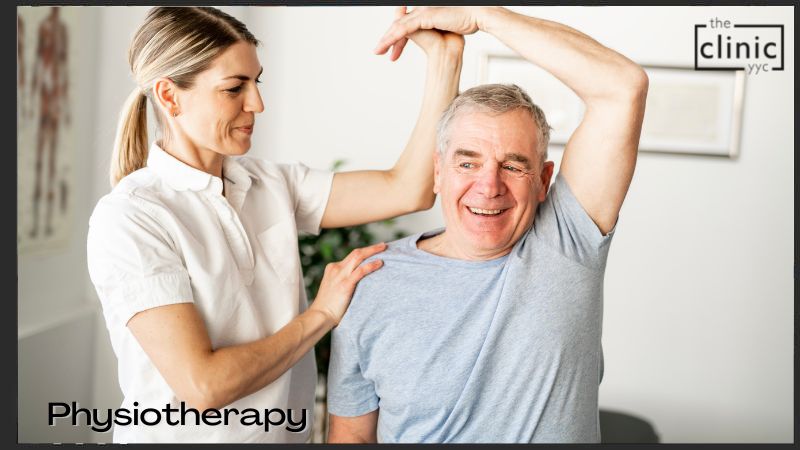 Physiotherapy is a non-invasive, hands-on health care discipline that aims to maintain, restore, and improve a patient's strength, function, mobility, movement, and general health and well-being. It focuses on injury, disorders, and conditions related to the musculoskeletal system (bones, muscles, cartilage, tendons, joints, and connective tissues), the nervous system (movement, sensory, and communication), and the spine. Physiotherapy is rehabilitative and preventative. Through expert assessment, our team can accurately diagnose impairments and tailor a holistic treatment plan for you. The Clinic YYC Physiotherapy team is trained to integrate a variety of traditional and advanced treatment modalities to return our patients to optimal health.
What Conditions Can Be Treated With Physiotherapy?
For many injuries and conditions, Physiotherapy is the primary treatment modality. It can be used to effectively treat a number of impairments including:
Arthritis
Bursitis
Back And Neck Pain
Temporomandibular Joint Dysfunction (TMJD-Jaw Pain)
Carpal Tunnel Syndrome
Disc Herniations
Headaches Including Migraine
Hip, Knee, And Ankle Pain
Neuromusculoskeletal Condition
Plantar Fasciitis
Postural Dysfunction And Related Pain
Pre/Post-Natal Related Pain
Pre/Post-Surgical Rehabilitation
Repetitive Strain Injuries
Rotator Cuff Injuries
Sciatica
Shin Splints
Shoulder, Elbow, And Wrist Pain
Spinal Instability
Spinal Stenosis
Sports And Running Injuries
Stress-Related Muscle Tension
Tennis/Golfer's Elbow
Whiplash And Motor Vehicle Accident Injuries
Nerve Entrapments (and related numbness or tingling)
Why Choose Physiotherapy?
Physiotherapy is a proven and effective way to improve your motion and mobility, recover after injury or disease, find relief from chronic or acute pain, and maximize your overall health and well-being. The Physiotherapy team at The Clinic YYC have advanced knowledge of human anatomy, biomechanics, and exercise physiology and are highly skilled at integrating the most current treatment modalities in a patient-centred care environment. If you have chronic pain, injury, impaired movement or mobility, are seeking to improve your sport performance, or are recovering after an accident, health obstacle, or surgery, Physiotherapy can help you return to meaningful living. The Clinic YYC Physio team is committed to patient education and preventative care as well as rehabilitation. Physiotherapy treatments at The Clinic YYC are private, conducted one-on-one (not in group settings as in other clinics), and unrushed, and you can benefit from our multidisciplinary, collaborative team approach to help you achieve whole health.
Are You Ready To Take Control of Your Health?
Become empowered to pursue whole health with our team's commitment to patient education and the integration of effective traditional and advanced treatment modalities that are cornerstones of The Clinic YYC mission.
To benefit from our in-depth knowledge, wellness insight, and expert treatment connect with us now. Explore many pathways to well-being and take control of your own health at The Clinic YYC.
A Team Committed To Whole Health
Each member of the team at The Clinic YYC is highly skilled in their own areas of specialization. Our team works collaboratively to build a personalized and comprehensive wellness strategy for each client. Our team approach allows us to integrate several treatment modalities to relieve pain and restore optimal function so your well-being is fostered by the health of your body, mind, and spirit. Meet the passionate and knowledgeable team of The Clinic YYC.
A Holistic Approach To Health
The Clinic YYC brings solutions for proactive and preventative care, pain relief, and peak function, and whole health by integrating effective treatment modalities delivered by a team of skilled and knowledgeable specialists. We believe that health care is not a one-size-fits-all strategy and that optimal wellness can be achieved through a personalized program of combined therapies. Here are some of the traditional and advanced treatments available at The Clinic YYC.
Our physiotherapists may send you home with some exercises to work on but your treatment time with our physiotherapist will be one-on-one and hands-on. Our providers will use multiple complementary modalities to address not only your pain and symptoms, but the underlying cause of your condition.
A Physiotherapy appointment at The Clinic YYC is not your typical physio appointment. Our commitment to you and your treatment means that we reserve a private and dedicated space for you to work with your physiotherapist one-on-one. Your treatment strategy will have been customized for your specific injuries and conditions and unique to your own personal healing journey.
Most private health insurance providers have coverage for Physiotherapy treatment. It is also possible to leverage your health spending account for Physiotherapy. Check with your provider for specific coverage details on your plan. We do offer direct billing as a convenience for you.
A Better Journey To Health

The Clinic YYC is an inclusive health practice integrating the most effective traditional and advanced treatment modalities available. We are focused on patient care, and proactive & preventative health, and we offer a compassionate and collaborative team approach to give our clients the time and attention they need to achieve optimal health and well-being. The Clinic YYC is your home for whole health.
Calgary's Choice For Optimal Wellness
Every person's journey to complete wellness is unique. Achieving optimal health may be easier than you thought, or it might be harder than you expected. But when you partner with the team at The Clinic YYC, you are guaranteed access to some of Calgary's best wellness professionals and to effective and transformative traditional and advanced treatment modalities to support your goals for physical well-being.
Connect with The Clinic YYC by filling out our contact form, calling us at 1-587-353-5933, faxing us at 1-587-353-5471 or visiting us! We are located in the ECT Tower on the main floor by the north entrance.