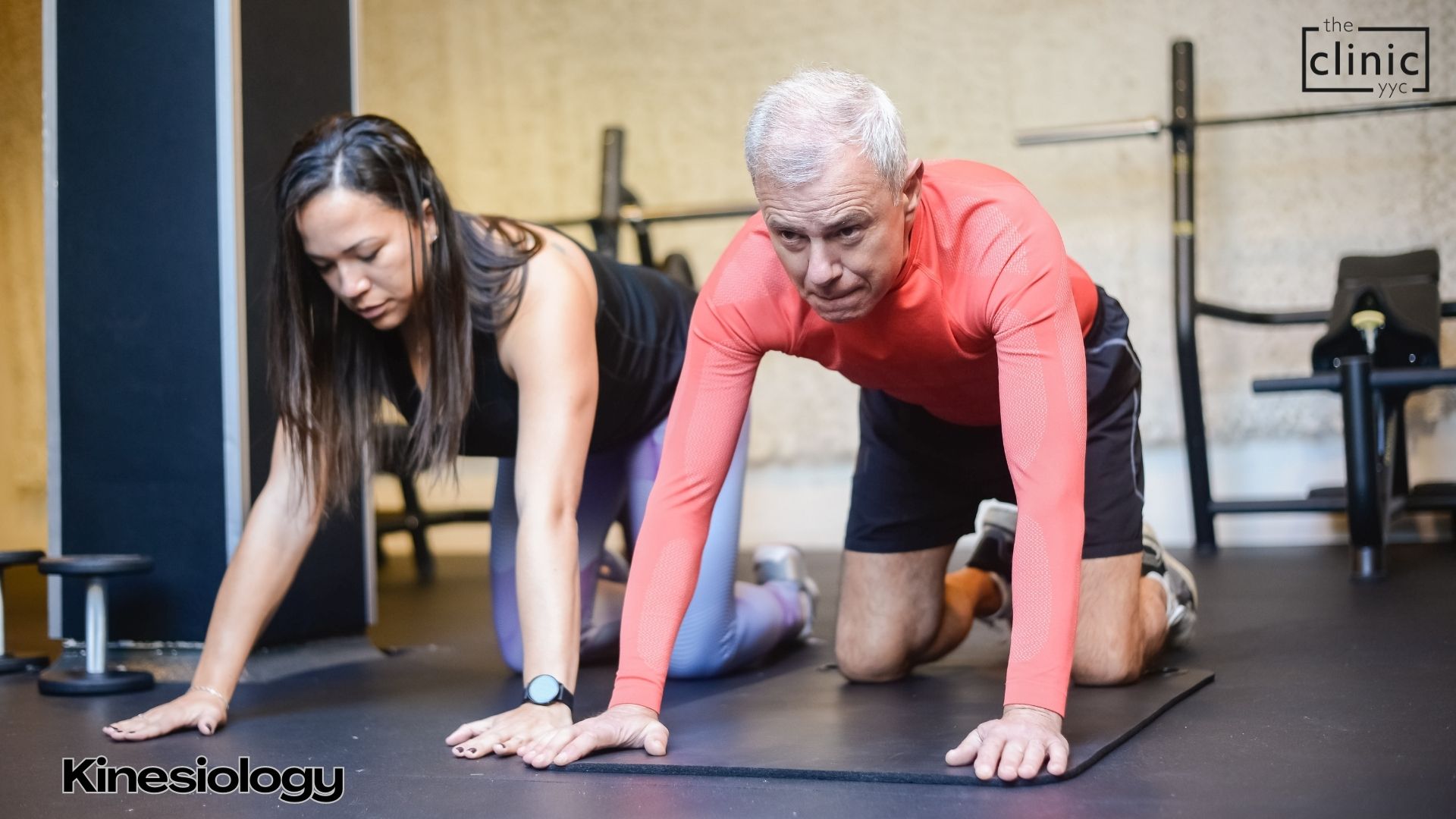 Did you know that skilled Kinesiologists play a pivotal role in optimizing functional and biomechanical movements? Through their expertise, they not only enhance your physical performance but also elevate your overall quality of life. Every individual is unique, and that's why our Kinesiology services offer personalized exercise prescriptions tailored to your specific needs. Embark on a journey towards a healthier, more vibrant you, guided by the dedicated care and knowledge of our Kinesiology experts.
At The Clinic YYC our kinesiologists and our team of wellness practitioners can integrate such treatments as
Graston Technique: Experience the benefits of this cutting-edge technique designed to enhance your body's natural abilities.

Myofascial Cupping: Discover the transformative effects of myofascial cupping, contributing to improved movement and overall wellbeing.

Injury Rehab: Receive dedicated support in your journey to recovery, guided by our experts' specialized knowledge.

Sports Rehab: Enhance your athletic performance with tailored rehabilitation programs that address your unique needs.

Personalized Exercise Prescription: Unlock the potential of personalized exercise plans, meticulously created to match your individual goals.

Functional & Postural Assessments: Gain insights into your body's functionality and posture, providing a foundation for your path to wellness.
What Conditions Can Be Treated With Kinesiology?
Kinesiology services are highly effective in treating a wide range of injuries and conditions. Some of the common injuries that can be successfully addressed through kinesiology include:
Kinesiology Manual & Movement Examination

Functional Kinesiology Treatment

Dynamometric Muscle Imbalance Assessments

Manual Joint, Tendon & Muscle Therapy

Functional Assessments

Corrective Exercise Therapy

Fascial Stretch Therapy (PNF stretching)

Medically Supervised Exercise

Customized Pain Management Plan & Strategy

Electrical therapy techniques including:

IFC (Interferential Current)

TENS (Transcutaneous Electrical Nerve Stimulation)

Therapeutic Ultrasound

Therapeutic application of heat and cold

General nutritional counselling

Fitness & Health Evaluations and Exercise prescription

Athletic training, therapy, and interventions

Ergonomic Education

Biomechanics

Exercise Physiology

Virtual Reality or Simulation Programs

Completion of insurance assessment forms (subject to form specific limitations)
Why choose Kinesiology Treatment?
Kinesiologists are experts in optimizing movement, identifying imbalances, and tailoring interventions to individual needs and goals. Whether recovering from injuries or aiming to enhance sports performance, their personalized techniques, such as the Graston Technique and myofascial cupping, promote healing and function. Beyond physical health, kinesiology care cultivates a comprehensive sense of wellness by addressing postural issues and promoting proper mechanics. Improved movement, reduced pain, and enhanced quality of life are the rewards. With their expert guidance, kinesiologists provide effective interventions, empowering individuals to invest in their health for lasting benefits. Ultimately, choosing kinesiology care is an investment in a more active, pain-free future, enriching overall health and vitality.
Are You Ready To Take Control of Your Health?
Become empowered to pursue whole health with our team's commitment to patient education and the integration of effective traditional and advanced treatment modalities that are cornerstones of The Clinic YYC mission.
To benefit from our in-depth knowledge, wellness insight, and expert treatment connect with us now. Explore many pathways to well-being and take control of your own health at The Clinic YYC.
A Team Committed To Whole Health
Each member of the team at The Clinic YYC is highly skilled in their own areas of specialization. Our team works collaboratively to build a personalized and comprehensive wellness strategy for each client. Our team approach allows us to integrate several treatment modalities to relieve pain and restore optimal function so your well-being is fostered by the health of your body, mind, and spirit. Meet the passionate and knowledgeable team of The Clinic YYC.
A Holistic Approach To Health
The Clinic YYC brings solutions for proactive and preventative care, pain relief, and peak function, and whole health by integrating effective treatment modalities delivered by a team of skilled and knowledgeable specialists. We believe that health care is not a one-size-fits-all strategy and that optimal wellness can be achieved through a personalized program of combined therapies. Here are some of the traditional and advanced treatments available at The Clinic YYC.
Seeing a kinesiologist can offer several benefits, including:
- Improved physical fitness and performance
- Injury prevention and rehabilitation
- Enhanced movement patterns and posture
- Increased understanding of exercise techniques and principles
- Tailored exercise programs based on individual needs and goals
- Guidance for managing chronic conditions through physical activity
Kinesiology overlaps with several related fields, but there are some key differences:
- Physical therapy focuses more on rehabilitation and the treatment of injuries, while kinesiology encompasses a broader perspective on movement and physical activity.
- Exercise science focuses on the physiological aspects of exercise and fitness, including performance enhancement, whereas kinesiology incorporates a wider range of factors, including social and psychological aspects.
- Sports medicine primarily deals with the prevention, diagnosis, and treatment of sports-related injuries, while kinesiology encompasses a broader scope of human movement in various contexts.
Yes, kinesiologists can play a role in weight loss by designing exercise programs tailored to an individual's needs and goals. They can provide guidance on effective exercise strategies, help individuals improve their physical fitness, and promote healthy lifestyle changes that support weight loss.
A Better Journey To Health

The Clinic YYC is an inclusive health practice integrating the most effective traditional and advanced treatment modalities available. We are focused on patient care, and proactive & preventative health, and we offer a compassionate and collaborative team approach to give our clients the time and attention they need to achieve optimal health and well-being. The Clinic YYC is your home for whole health.
Calgary's Choice For Optimal Wellness
Every person's journey to complete wellness is unique. Achieving optimal health may be easier than you thought, or it might be harder than you expected. But when you partner with the team at The Clinic YYC, you are guaranteed access to some of Calgary's best wellness professionals and to effective and transformative traditional and advanced treatment modalities to support your goals for physical well-being.
Connect with The Clinic YYC by filling out our contact form, calling us at 1-587-353-5933, faxing us at 1-587-353-5471 or visiting us! We are located in the ECT Tower on the main floor by the north entrance.