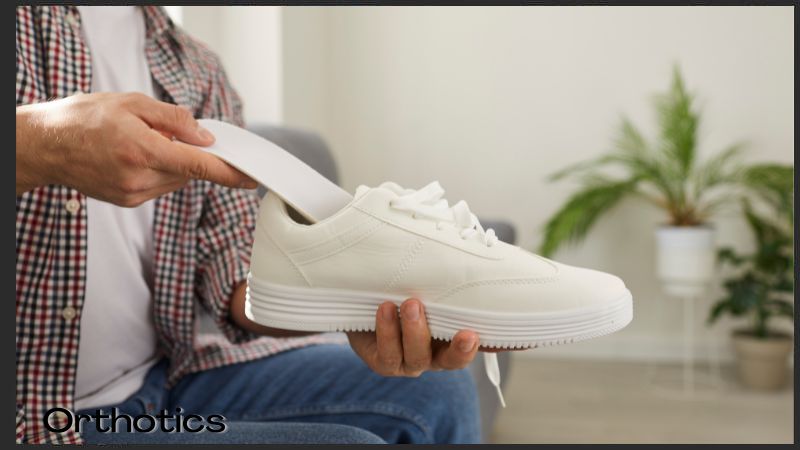 A custom Orthotic is a device designed to align your foot and ankle into the most anatomically efficient position. Custom orthotics fit into your shoes as comfortably as an insole and they look like insoles, but they are biomechanical medical appliances that are tailored to correct your specific foot imbalance. Orthotics reduce the stress and strain on your body by bringing your feet back into proper alignment. They help realign the foot by redirecting and reducing certain motion that takes place during your unique gait cycle thereby improving foot biomechanics. Orthotics position your foot so you use the right muscles at the right time, minimizing fatigue and increasing physiological efficiency.
What Conditions Can Be Treated With Custom Orthotics?
Custom Orthotics are a completely personalized treatment option to restore optimal functionality to your whole body by aligning and supporting your foot. They are effective at addressing many foot impairments and deformities as well as a variety of associated conditions including:
Achilles Tendonitis
Bunions
Congenital Flat Feet
Hammer Toe
Heel Spurs And Pain
Hip Syndromes (Including Iliotibial Band Syndrome)
Knee Pain
Medial Tibial Stress Syndrome (Shin Splints)
Metatarsalgia
Plantar Fasciitis
Spinal Mobility
Why Choose Custom Orthotics?
Foot pain can be caused by injury, repetitive use, congenital deformities, inflammation, and disease. And when your foot is impaired it can impact your whole body causing motion, gait, and balance problems, and pain to your ankles, knees, hips, back, and even your shoulders and neck. Proper foot and ankle alignment will support your body's peak function and help you walk straight and stand tall. Custom orthotics are an effective and accessible way to relieve pain, improve movement, and support your body from head to toe.
The Clinic YYC has partnered with Peak Orthotics to provide the most advanced custom Orthotics fitting solutions. This cutting-edge system allows for precise measurement, quick fabrication, and long-lasting, comfortable, and completely customized Orthotics.
Direct Billing For Your Convenience
The Clinic YYC offers direct billing to several private insurance providers for your convenience. Our partnerships with these providers means that you can access the treatments and services at The Clinic YYC without the hassle of having to pay out of pocket, then submit benefit claims on your own. If you have questions about direct billing or you do not see your private insurance provider listed, reach out to our team for assistance.
Are You Ready To Take Control of Your Health?
Become empowered to pursue whole health with our team's commitment to patient education and the integration of effective traditional and advanced treatment modalities that are cornerstones of The Clinic YYC mission.
To benefit from our in-depth knowledge, wellness insight, and expert treatment connect with us now. Explore many pathways to well-being and take control of your own health at The Clinic YYC.
A Holistic Approach To Health
The Clinic YYC brings solutions for proactive and preventative care, pain relief, and peak function, and whole health by integrating effective treatment modalities delivered by a team of skilled and knowledgeable specialists. We believe that health care is not a one-size-fits-all strategy and that optimal wellness can be achieved through a personalized program of combined therapies. Here are some of the traditional and advanced treatments available at The Clinic YYC.
Many private health insurance providers have coverage for custom Orthotics. It is also possible to leverage your health spending account for Orthotics. Check with your provider for specific coverage details on your plan. We do offer direct billing as a convenience for you.
Custom Orthotics do work. For some conditions such as bunions or flat feet, custom Orthotics will not fix or heal the problem, but in all cases, Orthotics will realign your foot, reposition and support your foot structures, and correct your step to relieve foot pain, improve function, and help avoid injury.
You really should wear your orthotics whenever possible; they will help your foot function properly and help you avoid pain and fatigue. Some patients will opt for a second pair of orthotics for different types/function shoes.
A Better Journey To Health

The Clinic YYC is an inclusive health practice integrating the most effective traditional and advanced treatment modalities available. We are focused on patient care, and proactive & preventative health, and we offer a compassionate and collaborative team approach to give our clients the time and attention they need to achieve optimal health and well-being. The Clinic YYC is your home for whole health.
Calgary's Choice For Optimal Wellness
Every person's journey to complete wellness is unique. Achieving optimal health may be easier than you thought, or it might be harder than you expected. But when you partner with the team at The Clinic YYC, you are guaranteed access to some of Calgary's best wellness professionals and to effective and transformative traditional and advanced treatment modalities to support your goals for physical well-being.
Connect with The Clinic YYC by filling out our contact form, calling us at 1-587-353-5933, faxing us at 1-587-353-5471 or visiting us! We are located in the ECT Tower on the main floor by the north entrance.