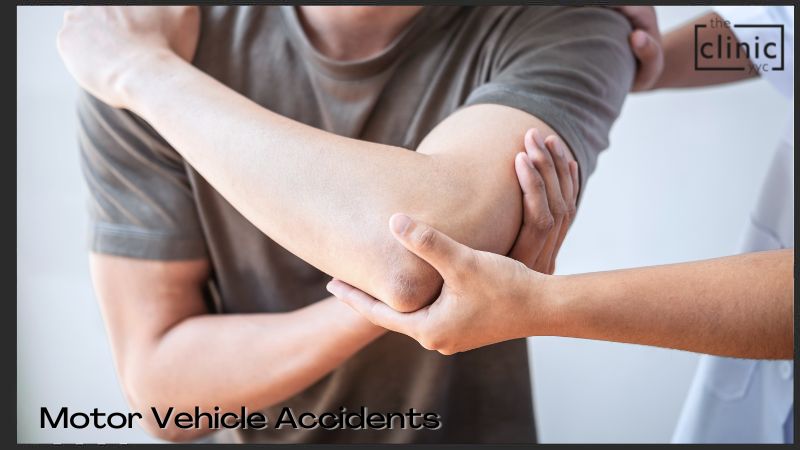 Recovery after a motor vehicle accident (MVA) can be a long road. Your journey to health after this trauma is impacted by the number and type of your injuries, your pre-accident health, your initial treatment after the accident, and your long-term treatment strategy. The Clinic YYC can provide comprehensive assessment and injury diagnosis and build a completely customized treatment and rehabilitation strategy to facilitate healing and restore optimal health after an MVA. The team at The Clinic YYC is committed to a collaborative and patient-centred approach to recovery and healing integrating all available treatment modalities to ease your return to maximum well-being.
What To Do If You Have Been Injured In A Motor Vehicle Accident
Step 1. See A Primary Health Care Practitioner: This can include urgent care (if necessary), your primary care physician, your chiropractor, or a physiotherapist. Do this as soon as possible after an MVA for comprehensive assessment and treatment advice. A physician referral is not needed to see our physiotherapists or our chiropractors.
Step 2. File An Accident Injury Report With The Police
Step 3. Complete A Notice Of Loss And Proof Of Claim Form (AB-1): Send the original signed forms to your insurance company and retain a copy for your own records. These are the timeframes for submission:

For Sprains, Strains, and Whiplash: Within 10 days of the accident to access "Diagnosis And Treatment Protocols" coverage.
For Other Injuries: Within 30 days of the accident if you decline "Diagnosis And Treatment Protocols" coverage.

Step 4. You Will Be Contacted By Your Insurance Company: Your insurance provider will inform you of the benefits you are entitled to receive and/or inform you of any additional requirements to process your claim.
The Clinic YYC can assist you in completing and submitting all necessary paperwork required by your insurance provider.
Treatment After Motor Vehicle Accident Injury
The team of experienced practitioners at The Clinic YYC are exceptionally experienced in comprehensive assessment, diagnosis, and treatment after motor vehicle accident injury. We leverage a collaborative and integrated approach to treat not only the pain and symptoms but the underlying impairments caused by your MVA injury. Your recovery strategy could include:
Injury Rehabilitation And Exercise Design
And More…
If you are suffering from pain, impaired movement, or limited mobility after a motor vehicle accident, the team at The Clinic YYC can customize a treatment strategy and guide your journey to whole health and recovery.
Direct Billing For Your Convenience
The Clinic YYC offers direct billing to several private insurance providers for your convenience. Our partnerships with these providers means that you can access the treatments and services at The Clinic YYC without the hassle of having to pay out of pocket, then submit benefit claims on your own. If you have questions about direct billing or you do not see your private insurance provider listed, reach out to our team for assistance.
Are You Ready To Take Control of Your Health?
Become empowered to pursue whole health with our team's commitment to patient education and the integration of effective traditional and advanced treatment modalities that are cornerstones of The Clinic YYC mission.
To benefit from our in-depth knowledge, wellness insight, and expert treatment connect with us now. Explore many pathways to well-being and take control of your own health at The Clinic YYC.
A Holistic Approach To Health
The Clinic YYC brings solutions for proactive and preventative care, pain relief, and peak function, and whole health by integrating effective treatment modalities delivered by a team of skilled and knowledgeable specialists. We believe that health care is not a one-size-fits-all strategy and that optimal wellness can be achieved through a personalized program of combined therapies. Here are some of the traditional and advanced treatments available at The Clinic YYC.
Motor Vehicle Accidents FAQs
You do not need a referral to seek treatment from a chiropractor or a physiotherapist after a motor vehicle accident.
Book in for a complimentary consultation and our team can help you complete and submit the paperwork necessary to begin your treatment.
Your treatment strategy will depend on the type and extent of your injuries, your general health, and your goals for recovery. After a comprehensive assessment, the team at The Clinic YYC will customize a recovery strategy to leverage any and all treatment modalities available.
Our team can help you complete and submit all paperwork necessary to confirm the types and number of treatments you are entitled to. We do our best to communicate with all insurance adjusters to ensure our patient's care is our top priority and we will bill the insurance company on your behalf during the treatment phase.
A Better Journey To Health

The Clinic YYC is an inclusive health practice integrating the most effective traditional and advanced treatment modalities available. We are focused on patient care, and proactive & preventative health, and we offer a compassionate and collaborative team approach to give our clients the time and attention they need to achieve optimal health and well-being. The Clinic YYC is your home for whole health.
Calgary's Choice For Optimal Wellness
Every person's journey to complete wellness is unique. Achieving optimal health may be easier than you thought, or it might be harder than you expected. But when you partner with the team at The Clinic YYC, you are guaranteed access to some of Calgary's best wellness professionals and to effective and transformative traditional and advanced treatment modalities to support your goals for physical well-being.
Connect with The Clinic YYC by filling out our contact form, calling us at 1-587-353-5933, faxing us at 1-587-353-5471 or visiting us! We are located in the ECT Tower on the main floor by the north entrance.