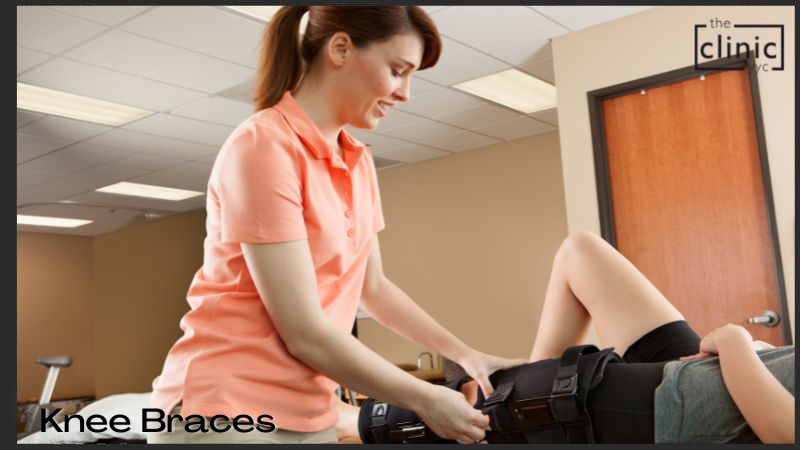 Knee braces are specially designed devices that can provide relief and support after injury (such as ACL tear or knee dislocation), after surgery, or for conditions and diseases affecting the knee (such as arthritis). Knee braces can serve several functions including pain relief, inflammation reduction, compression, motion restriction, weight support, stability, protection, and more. A knee brace that fits correctly is key to comfort and efficacy. The Clinic YYC offers custom Knee Bracing to help patients achieve healing and recovery after injury and surgery, and long-term support and relief for patients with chronic conditions that affect their knees.
What Conditions Can Be Treated With Custom Knee Bracing?
Custom Knee Bracing is an effective way to achieve pain relief, improve movement and mobility, and facilitate healing. Some of the conditions and symptoms that can be treated with custom Knee Bracing include:
ACL Knee Sprains
Ligamentous Laxity
Jumper's Knee / Patellofemoral Pain
MCL Knee Sprains
Meniscal Sprains And Tears
Osteoarthritis Unloading
Inflammation
Post-Surgical
Repetitive Or Overuse Injuries
Why Choose Custom Knee Bracing?
The Clinic YYC has partnered with DonJoy custom knee braces to provide our patients with superior-quality orthopedic devices for a full range of knee injuries and impairments. DonJoy custom Knee Braces have Knee Brace options for rehabilitation, support, pain management, and pre and post-surgery. Custom Knee braces are designed to prevent injury, promote recovery, protect healing tissues, and deliver the ideal motion and movement support (motion or restriction). A medical doctor's requisition is not needed to access custom Knee Bracing at The Clinic YYC, but your insurance provider may require this document for claim purposes.
Direct Billing For Your Convenience
The Clinic YYC offers direct billing to several private insurance providers for your convenience. Our partnerships with these providers means that you can access the treatments and services at The Clinic YYC without the hassle of having to pay out of pocket, then submit benefit claims on your own. If you have questions about direct billing or you do not see your private insurance provider listed, reach out to our team for assistance.
Are You Ready To Take Control of Your Health?
Become empowered to pursue whole health with our team's commitment to patient education and the integration of effective traditional and advanced treatment modalities that are cornerstones of The Clinic YYC mission.
To benefit from our in-depth knowledge, wellness insight, and expert treatment connect with us now. Explore many pathways to well-being and take control of your own health at The Clinic YYC.
A Holistic Approach To Health
The Clinic YYC brings solutions for proactive and preventative care, pain relief, and peak function, and whole health by integrating effective treatment modalities delivered by a team of skilled and knowledgeable specialists. We believe that health care is not a one-size-fits-all strategy and that optimal wellness can be achieved through a personalized program of combined therapies. Here are some of the traditional and advanced treatments available at The Clinic YYC.
OTC (or off-the-shelf) braces are pre-made (usually in sizes small, medium, and large). They will offer some support, and often a good temporary solution, but custom Knee Braces are an engineered and more detailed system with the specifications you need to support your particular injury or condition.
A custom Knee Brace will provide support to your joint as you walk and move keeping your knee in alignment. It can take pressure off your knee cap and give you a sense of stability.
Some people will wear their Knee Brace all day, while others will only use it during activities like walking or exercising. Your chiropractor will be able to help you figure out an effective schedule for use.
A Better Journey To Health

The Clinic YYC is an inclusive health practice integrating the most effective traditional and advanced treatment modalities available. We are focused on patient care, and proactive & preventative health, and we offer a compassionate and collaborative team approach to give our clients the time and attention they need to achieve optimal health and well-being. The Clinic YYC is your home for whole health.
Calgary's Choice For Optimal Wellness
Every person's journey to complete wellness is unique. Achieving optimal health may be easier than you thought, or it might be harder than you expected. But when you partner with the team at The Clinic YYC, you are guaranteed access to some of Calgary's best wellness professionals and to effective and transformative traditional and advanced treatment modalities to support your goals for physical well-being.
Connect with The Clinic YYC by filling out our contact form, calling us at 1-587-353-5933, faxing us at 1-587-353-5471 or visiting us! We are located in the ECT Tower on the main floor by the north entrance.