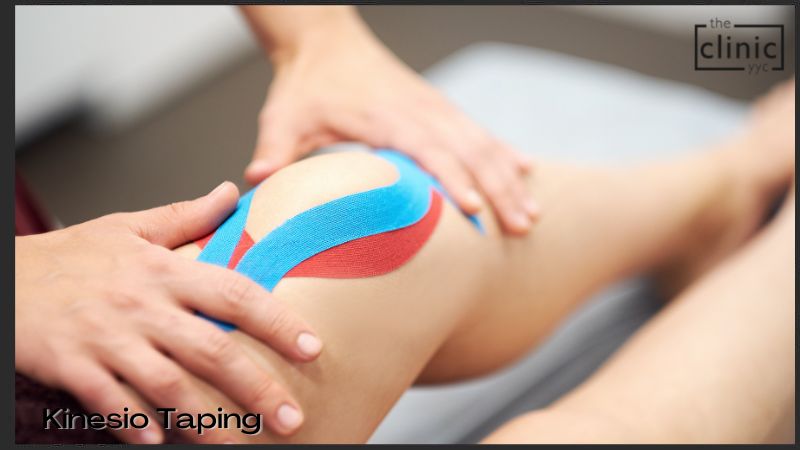 Kinesio Taping® is a game-changing therapy aimed at providing support and stability to your joints without restricting circulation or range of motion. By gently lifting the skin, kinesio tape can facilitate lymphatic drainage, relieve pain, and reduce swelling. Kinesio Taping® can reduce muscle fatigue and spasm, prevent over-contraction or over-extension of muscles, improve the activation of weakened muscles, correct joint mechanics, promote post-surgical healing, and speed up injury rehabilitation. The strategic placement of kinesio tape and its efficacy in activating neurological and circulatory systems can also optimize sports performance. Kinesio tape is water-resistant and hypoallergenic and can be worn for days at a time without needing reapplication.
Direct Billing For Your Convenience
The Clinic YYC offers direct billing to several private insurance providers for your convenience. Our partnerships with these providers means that you can access the treatments and services at The Clinic YYC without the hassle of having to pay out of pocket, then submit benefit claims on your own. If you have questions about direct billing or you do not see your private insurance provider listed, reach out to our team for assistance.
Are You Ready To Take Control of Your Health?
Become empowered to pursue whole health with our team's commitment to patient education and the integration of effective traditional and advanced treatment modalities that are cornerstones of The Clinic YYC mission.
To benefit from our in-depth knowledge, wellness insight, and expert treatment connect with us now. Explore many pathways to well-being and take control of your own health at The Clinic YYC.
A Holistic Approach To Health
The Clinic YYC brings solutions for proactive and preventative care, pain relief, and peak function, and whole health by integrating effective treatment modalities delivered by a team of skilled and knowledgeable specialists. We believe that health care is not a one-size-fits-all strategy and that optimal wellness can be achieved through a personalized program of combined therapies. Here are some of the traditional and advanced treatments available at The Clinic YYC.
This therapy involving the strategic placement of kinesio tape can be used to address a number of conditions including:
Carpal Tunnel Syndrome
Groin Injury
Hamstring Injury
Hip, Knee, And Ankle Pain
Patella Tracking
Plantar Fasciitis
Pre And Post-Surgical Edema
Rotator Cuff Injury
Shoulder Conditions
Tennis Elbow
Upper, Middle, Or Lower Back Pain
Whiplash
Muscular Facilitation Or Inhibition In Pediatric Patients
Because kinesio tape has a strong adhesion quality, it can be a little more difficult to remove than a standard bandage. A couple of things to keep in mind:
Kinesio tape can be removed more easily in the shower after thoroughly wetting the tape and lathering it with soap.
Baby oil that is allowed to soak into the tape for 15-20 minutes can ease removal.
Remove the kinesio tape in the direction of any hair growth (not against it) to avoid yanking out hairs.
Do not attempt to just quickly rip off kinesio tape to avoid pain. This could cause damage to your skin.
Most applications of Kinesio Taping® will last for 3-4 days. It is completely safe to leave your tape on for that long.
A Better Journey To Health

The Clinic YYC is an inclusive health practice integrating the most effective traditional and advanced treatment modalities available. We are focused on patient care, and proactive & preventative health, and we offer a compassionate and collaborative team approach to give our clients the time and attention they need to achieve optimal health and well-being. The Clinic YYC is your home for whole health.
Calgary's Choice For Optimal Wellness
Every person's journey to complete wellness is unique. Achieving optimal health may be easier than you thought, or it might be harder than you expected. But when you partner with the team at The Clinic YYC, you are guaranteed access to some of Calgary's best wellness professionals and to effective and transformative traditional and advanced treatment modalities to support your goals for physical well-being.
Connect with The Clinic YYC by filling out our contact form, calling us at 1-587-353-5933, faxing us at 1-587-353-5471 or visiting us! We are located in the ECT Tower on the main floor by the north entrance.