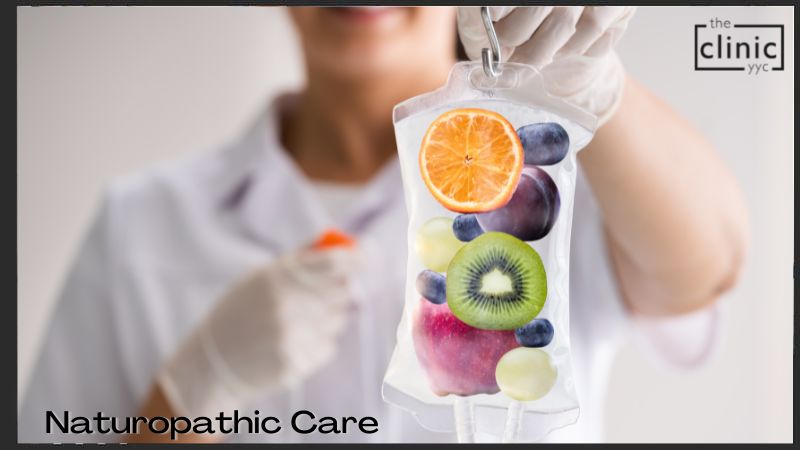 Naturopathic Care integrates modern science and traditional and natural medicine practices. The naturopathic philosophy focuses on encouraging the body to heal itself as an approach to treating disease. Signs of underlying disease are a warning that the body is not functioning properly. In naturopathic medicine, the disease is not an entity, but a process. Individualized naturopathic treatments are based on each patient's unique physiology, psychology, body structure, social and spiritual beliefs, environment and lifestyle factors.
With comprehensive lifestyle changes, naturopathy includes nutrition, homeopathy, hydrotherapy, naturopathic manipulation, acupuncture, and many other natural therapies. Naturopathic medicine strives to not only treat the symptoms, but to explore the underlying causes and achieve whole health with a multifaceted treatment strategy.
What Conditions Can Be Treated With Naturopathic Care?
Naturopathic Care is an effective treatment for almost all health conditions. The holistic approach to health that is central to Naturopathic Care allows a naturopathic doctor to leverage a wide range of treatment modalities and insights to restore health. Some of the more common conditions that can be treated with Naturopathic Care include:
Women's and Men's Health
Pediatric Health
Fatigue
Joint Pain
Digestive Issues
Mood Disorders Like Anxiety And Depression
Insomnia And Other Sleep Disorders
Diabetes
Asthma And Allergies
Hormonal Imbalances
High Blood Pressure
Chronic Pain
Allergies
Headaches Including Migraines
Weight And Nutrition
Why Choose Naturopathic Care?
Naturopathic Care is a comprehensive approach to health care that empowers you to take control of your own journey to health and to harness your body's ability to heal itself. Choosing Naturopathic Care will allow you to explore many different treatment modalities and pathways to optimal wellness including traditional healing practices and advanced, science-based principles for wellness. Naturopathic Care will treat not just your pain and symptoms, but your whole being as a complex and interconnected system. And you don't need to wait until you feel ill before seeking Naturopathic Care. This holistic service is available whenever you want to improve your health and achieve optimal well-being.
Are You Ready To Take Control of Your Health?
Become empowered to pursue whole health with our team's commitment to patient education and the integration of effective traditional and advanced treatment modalities that are cornerstones of The Clinic YYC mission.
To benefit from our in-depth knowledge, wellness insight, and expert treatment connect with us now. Explore many pathways to well-being and take control of your own health at The Clinic YYC.
A Holistic Approach To Health
The Clinic YYC brings solutions for proactive and preventative care, pain relief, and peak function, and whole health by integrating effective treatment modalities delivered by a team of skilled and knowledgeable specialists. We believe that health care is not a one-size-fits-all strategy and that optimal wellness can be achieved through a personalized program of combined therapies. Here are some of the traditional and advanced treatments available at The Clinic YYC.
The objective of Naturopathic Care is to prevent disease and build a healthy body. The primary goals are boosting your body's ability to function optimally, eliminating symptoms or pain, and creating a high-functioning interconnected system for long-lasting health.
The primary goal of your naturopathic doctor is to determine and treat the underlying cause of disease. In treating the cause of any condition your naturopathic doctor takes into account not only your physical symptoms, but also your mental, emotional, genetic, environmental, social, spiritual needs and goals, and other factors.
Much like family doctors, naturopathic doctors act as general practitioners to diagnose and treat a wide range of medical conditions in patients of all ages. While medical doctors primarily employ pharmaceutical and surgical interventions to treat physical symptoms and health conditions, naturopathic doctors focus on the specific needs of the individual, addressing the cause of illness and selecting highly effective natural treatments with the lowest risk of side-effects. Naturopathic therapies can often be used effectively on their own, but may also be used to enhance the results of conventional medical treatments, or to help manage the side-effects of conventional treatments.
A Better Journey To Health

The Clinic YYC is an inclusive health practice integrating the most effective traditional and advanced treatment modalities available. We are focused on patient care, and proactive & preventative health, and we offer a compassionate and collaborative team approach to give our clients the time and attention they need to achieve optimal health and well-being. The Clinic YYC is your home for whole health.
Calgary's Choice For Optimal Wellness
Every person's journey to complete wellness is unique. Achieving optimal health may be easier than you thought, or it might be harder than you expected. But when you partner with the team at The Clinic YYC, you are guaranteed access to some of Calgary's best wellness professionals and to effective and transformative traditional and advanced treatment modalities to support your goals for physical well-being.
Connect with The Clinic YYC by filling out our contact form, calling us at 1-587-353-5933, faxing us at 1-587-353-5471 or visiting us! We are located in the ECT Tower on the main floor by the north entrance.