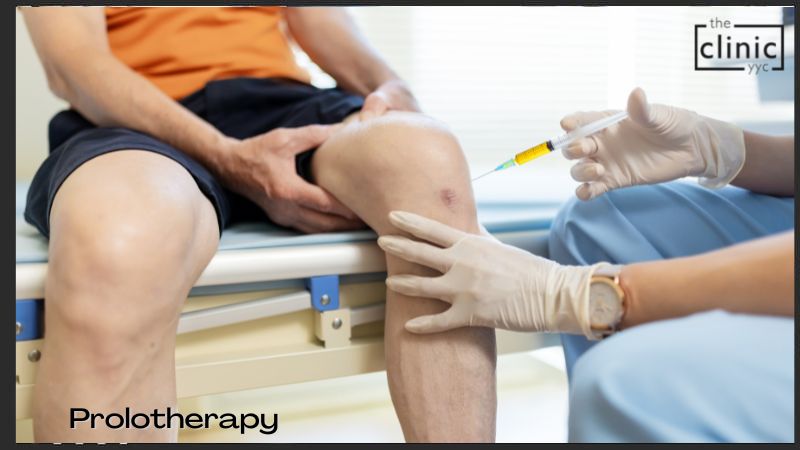 Prolotherapy is an advanced treatment modality that aims to stimulate the body's natural healing processes to repair and strengthen injured and painful joints and connective tissues. When tendons or ligaments are stretched or torn, the associated joint destabilizes causing pain. Prolotherapy is a targeted injection containing natural substances such as dextrose, saline, and sarapin and anaesthetic agents to create a mild inflammatory response that encourages the growth of new ligament and tendon fibres. This results in a tightening and restabilization of the joint structure. Prolotherapy is safe and extremely effective in relieving the pain and weakness associated with tendon and ligaments injuries without the need for surgery.
Are You Ready To Take Control of Your Health?
Become empowered to pursue whole health with our team's commitment to patient education and the integration of effective traditional and advanced treatment modalities that are cornerstones of The Clinic YYC mission.
To benefit from our in-depth knowledge, wellness insight, and expert treatment connect with us now. Explore many pathways to well-being and take control of your own health at The Clinic YYC.
A Holistic Approach To Health
The Clinic YYC brings solutions for proactive and preventative care, pain relief, and peak function, and whole health by integrating effective treatment modalities delivered by a team of skilled and knowledgeable specialists. We believe that health care is not a one-size-fits-all strategy and that optimal wellness can be achieved through a personalized program of combined therapies. Here are some of the traditional and advanced treatments available at The Clinic YYC.
The anticipated rate of success depends on a number of variables, including the patient's history and ability to heal, and the type of solution used. In patients with low back pain, studies have shown 85% to 95% of patients experience improvement with Prolotherapy (compared to studies showing a 52% improvement with back surgery). Many studies show a high success rate when Prolotherapy is used for various ligament, tendon or joint pain/injuries. The team at The Clinic YYC can assess your injury and help you decide if Prolotherapy could work for you.
Treatment intervals vary depending on the specific problem and severity of the area being treated, as well as the protocol of the practitioner. Typical intervals between treatments are three to six weeks, with an average interval of once a month, for a total of four to six treatments. However, this can vary and may be more frequent, or take longer, depending on the condition being treated.
Some of the conditions that can be treated with Prolotherapy include:
Neck Pain
Knee Pain
Knee Meniscal Tears
Wrist Or Hand Pain Including Carpal Tunnel
Osteoarthritis
Shoulder Pain Including Rotator Cuff Tears
Elbow Pain Including Golfer's Or Tennis Elbow
Foot Pain Including Plantar Fasciitis
Ankle Pain Or Instability
Hypermobility
Osteitis Pubis
IT Band Syndrome
Piriformis Syndrome
Temporomandibular Joint Syndrome (TMJ)
Low Back Or Mid-Back Pain Including Degenerative Disc Disease And Sacro-Iliac Joint Instability/Dysfunction
Other Musculoskeletal Pain Or Injury
A Better Journey To Health

The Clinic YYC is an inclusive health practice integrating the most effective traditional and advanced treatment modalities available. We are focused on patient care, and proactive & preventative health, and we offer a compassionate and collaborative team approach to give our clients the time and attention they need to achieve optimal health and well-being. The Clinic YYC is your home for whole health.
Calgary's Choice For Optimal Wellness
Every person's journey to complete wellness is unique. Achieving optimal health may be easier than you thought, or it might be harder than you expected. But when you partner with the team at The Clinic YYC, you are guaranteed access to some of Calgary's best wellness professionals and to effective and transformative traditional and advanced treatment modalities to support your goals for physical well-being.
Connect with The Clinic YYC by filling out our contact form, calling us at 1-587-353-5933, faxing us at 1-587-353-5471 or visiting us! We are located in the ECT Tower on the main floor by the north entrance.