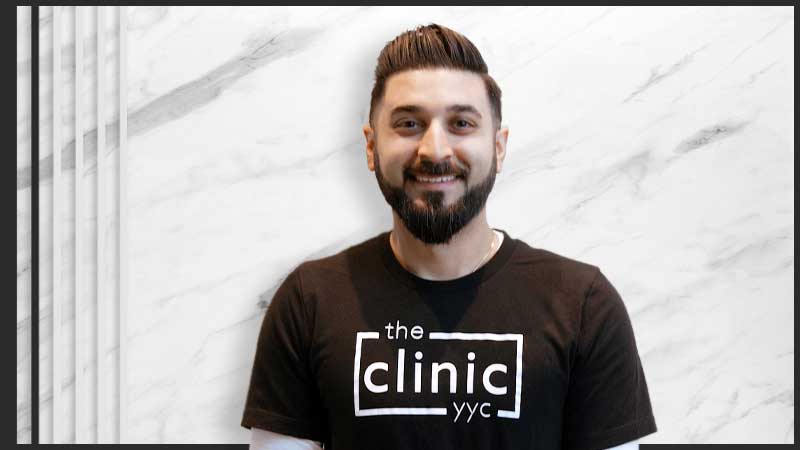 Dr. Sadiq Rajan
Chiropractic Doctor & Acupuncture Provider
Dr. Sadiq Rajan is a Chiropractor at The Clinic YYC. After graduating from the University of Calgary with a Bachelor of Science degree in Kinesiology in 2013, Dr. Rajan continued his education by obtaining a Doctorate of Chiropractic at the Canadian Memorial Chiropractic College in 2017. During his clinical internship in the GTA, Dr. Rajan gained experience in treating many different patients and conditions. Through this, he emphasized his treatment style not only on decreasing pain but also on improving daily function in order to increase his patient's quality of life by sustaining a healthier lifestyle.
Dr. Rajan primarily focuses on individuals who suffer from postural ailments due to prolonged sitting. His treatment consists of chiropractic care through the use of manual therapy, acupuncture using a Traditional Chinese Medicine approach, rehabilitation and corrective exercises, as well as healthy lifestyle choices through patient education.
Throughout his academic career, Dr. Rajan has always had a keen interest in expanding his knowledge about the human body through functional anatomy and biomechanics. He is eager to stay up to date with the latest literature in evidence-based chiropractic care because he believes that in order for an individual to reach their true potential, they deserve the most recent and the best possible treatment.
A Team Committed To Whole Health
Each member of the team at The Clinic YYC is highly skilled in their own areas of specialization. Our team works collaboratively to build a personalized and comprehensive wellness strategy for each client. Our team approach allows us to integrate several treatment modalities to relieve pain and restore optimal function so your well-being is fostered by the health of your body, mind, and spirit. Meet the passionate and knowledgeable team of The Clinic YYC.
Are You Ready To Take Control of Your Health?
Become empowered to pursue whole health with our team's commitment to patient education and the integration of effective traditional and advanced treatment modalities that are cornerstones of The Clinic YYC mission.
To benefit from our in-depth knowledge, wellness insight, and expert treatment connect with us now. Explore many pathways to well-being and take control of your own health at The Clinic YYC.
A Holistic Approach To Health
The Clinic YYC brings solutions for proactive and preventative care, pain relief, and peak function, and whole health by integrating effective treatment modalities delivered by a team of skilled and knowledgeable specialists. We believe that health care is not a one-size-fits-all strategy and that optimal wellness can be achieved through a personalized program of combined therapies. Here are some of the traditional and advanced treatments available at The Clinic YYC.
A Better Journey To Health

The Clinic YYC is an inclusive health practice integrating the most effective traditional and advanced treatment modalities available. We are focused on patient care, and proactive & preventative health, and we offer a compassionate and collaborative team approach to give our clients the time and attention they need to achieve optimal health and well-being. The Clinic YYC is your home for whole health.
Calgary's Choice For Optimal Wellness
Every person's journey to complete wellness is unique. Achieving optimal health may be easier than you thought, or it might be harder than you expected. But when you partner with the team at The Clinic YYC, you are guaranteed access to some of Calgary's best wellness professionals and to effective and transformative traditional and advanced treatment modalities to support your goals for physical well-being.
Connect with The Clinic YYC by filling out our contact form, calling us at 1-587-353-5933, faxing us at 1-587-353-5471 or visiting us! We are located in the ECT Tower on the main floor by the north entrance.